Richburgs last go-around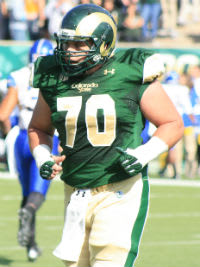 Redshirt senior center
Weston Richburg
will be a sure-fire NFL draft pick next spring. He has started all 42 games he's ever played in his college career. He has littered preseason, midseason and postseason award watch-lists, all-conference lists, and other various publications have deemed him award-worthy.
But one thing he has never done in his previous four years on campus is beat arguably the Rams' biggest rival: Wyoming.
Richburg is hoping to change that tomorrow afternoon when the Rams travel to Laramie in a mid-season tilt of the Border War.
"It's really important. We haven't gotten The Boot since I've been here," Richburg said following Tuesday's practice. "I'd really like to get that back and start that tradition back up for us here."
The 6-foot-4, 300-pound lineman is laid-back off the field, but on it, his fire and passion is clear: He wants to win. Over his previous three meetings against the Cowboys, he has had a tendency of getting into verbal spars with opposing Pokes defenders, which is nothing abnormal in a heated rivalry.
It is what it is.
"It's a big rivalry. There's a lot at stake, a lot of bragging rights, so there's definitely a lot of heart and emotion that goes into this. You've got to find a balance of playing physical and getting after it, as well as kind of keeping yourself calm."
Whether the Rams come out trying to establish the run on offense or strike through the air first, the plan for the offensive line is pretty straight-forward going into every game.
"As an offensive line, that's always our goal is to be physical and be able to kind of control the line of scrimmage. That's our goal as an offensive line every game."
CSU has an overall advantage in the series, dating back to the last 104 years, 55-44-5, but Wyoming has won the past four meetings. The Rams' last win came in Laramie in 2008 when they last went to a bowl game. That year, they were led by Gartrell Johnson and Dion Morton en route to a 31-20 victory.
With the Rams struggling to gain ground in the winning column in this rivalry, Richburg's teammates are sure to look to him for leadership.
"I've grown into the position where guys look to me," he said. "That took a little while for me to understand because I kind of led people in the wrong ways sometimes. It's hit me that I have a position of influence, to be able to be vocal, to lead by example and get guys on the right track."
So what would it mean for Richburg to finally bring the Bronze Boot back to Fort Collins on his last try?
"It would be big. It'd be a big deal for the school going forward from this point on. We're trying to get things on the right track, trying to get this program where it needs to be, and that would be a big first step for us."
Ryan Krous is the publisher of GoldandGreenNews.com. You can email him at ryan.krous@gmail.com or follow him on twitter @RyanKrous for all the latest and breaking Colorado State news.